Open for
​Dine-In • Takeout • Delivery
To our community and friends,
Effective Monday May 24 Riff's Joint and The Hideaway Lounge will be closed Mondays and Tuesdays.
​
Due to the continued affects of the pandemic and the current unemployment situation Riff's Joint and The Hideaway Lounge will temporarily be closing on Mondays and Tuesdays.

As businesses continue to open back up and the workforce feels safe working again we plan to return to our normal hours of operation.

​We thank you from the bottom of our hearts for your continued support; we could not have made it this far without you.

With gratitude,
All your friends at Riff's
May 23, 2021
---
---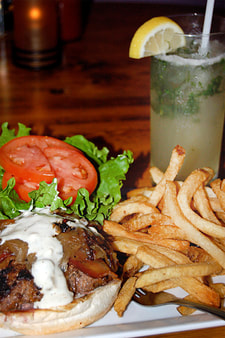 Hungry for something better?
How about FRESH food and BOLD flavors?

Riff's Joint is Your Place! Riff's is a casual, family-friendly, counter service restaurant in the fabulous Eastworks building in Easthampton, MA.

​We have a huge menu of American comfort foods with international twists.

Best of all, we make everything ourselves! No frozen fries, chicken from a box, or preservative laden salad dressings! We use humanely raised, hormone and antibiotic free ground beef, locally produced sourdough breads and fresh grinder rolls. We smoke our own briskets, pork bellies, turkeys and more!
---
---
If you want a little more atmosphere then come see us at our attached bar:

​The Hideaway Lounge!

Here you will find the same great food in a darker, more intimate atmosphere with waited service. The attention to detail stays the same though with the town's best selection of craft beers, temperature controlled wines, and the best cocktail list around! Here we make all our own cocktail syrups, sour mix, and barrel-aged cocktails.

Photo Gallery
---
​In the News:
---
We're Hiring!
May 2021
Mornings 10am-3pm.
Some other shifts available as well.
---
Holiday Meals To-Go from Myers Catering & Riff's
Dec 2020
Back by popular demand! Let us do the work for you in 5 easy steps! Build Your Own Meal!
More
>
---
Yes we are open for Dine in, Takeout and Delivery!
Winter 2020
EXCITING NEWS FROM

Riff's Joint and The Hideaway Lounge
We are open for dine-in service in addition to our pick up and delivery that is already in place.
Hours: 11:30am - 9:00pm
​​
The following is asked of our guests:
• Tables are on a first come basis
• No more than 6 guests at a table
• Guests must wait in the hallway when restaurant is full
• Avoid crowding in the restaurant or hallways
• Masks/face coverings must be worn by all guests 3 years of age and older
• Customers may remove their masks when sitting at their table but must put the mask back on whenever they leave the table (restroom/ to get beverage/leave)
• Children must remain seated, no wondering around
• Continue to practice social distancing/no crowding
• Tables remain 6' apart, no sliding or combining of tables or chairs
• Customers can exit and enter in the same doorway (masks on)
• One customer from each party signs in – date, name and phone number
• Please no lingering
• Be patient and kind as we work through this next phase of service and dining with fewer staff and greater tasks
All of us at Riff's and The Hideaway will have face coverings and will be working hard to keep areas sanitized and clean to keep you safe and happy!
Thank you in advance and we can't wait to see you!
🥰
🥰
🥰
---
---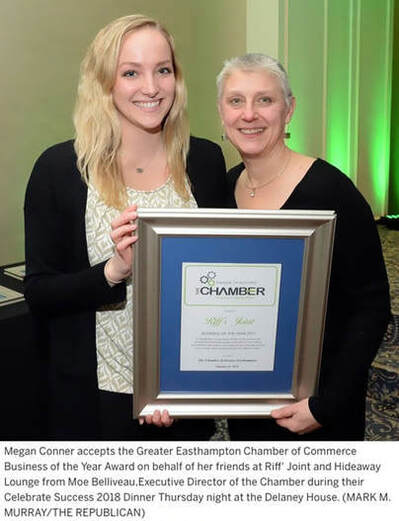 ---
---
Spring Fever Brew Fest - May 20, 3-8pm
---
May 13, 2017 Abandoned Building Brewery - Thanks for celebrating their 3 Year Anniversary Party with us!
---
June, 2017 Thank you for voting us Best French Fries in Mass!
​MassLive voted us #5 in the whole state!
---
Thank you for coming to our event
Memorial Benefit in Honor of ​Trevor Wadleigh
---
Multi-Year Winner for Best of the Valley Advocate:
​Thanks for voting for us!!!
---
30 Western Massachusetts spots to eat and drink in 2016
By

Sarah Platanitis

January 2016

Riff's Joint at 116 Pleasant Street is perfect for a casual bite or quick take-out. The place buzzes with energy and there's always something on the menu -- burgers, salads, tacos and specials -- that can fit a food mood. Creative beer and cocktail...

Read More

>
---
10 Massachusetts Sandwiches You Have To Try Before You Die

Posted in

Massachusetts

January 13, 2017 by

Sophia

Food fads come and go, but there's a reason the sandwich has endured. Portable, simple and all-out delicious, there's no better way to enjoy your favorite fixings than between two pillowy slices of bread. When you need an amazing sandwich...

Read More

>